Introduction
June is a big month for inclusive marketing. From Pride to Juneteenth – opportunities to connect with audiences and consumers on a deeper, more meaningful level abound. The month contains milestones of celebration, pride, and remembrance for those that came before.
While these opportunities are great, it's not uncommon to witness marketing campaigns and advertisements that miss the mark and come off as less empowering and more insincere- or worse, outright ignorant. In many cases, audiences receiving these ads question the genuineness of proclamations of support and, invariably the company's overall authenticity. If you want to market to historically marginalized groups such as people of color or those in the LGBTQIA+ community, it must be done with tact, responsibility, and follow-through.
There are ways to advertise while simultaneously uplifting and helping these communities properly. When done right, brands can positively impact audiences, and businesses can establish a meaningful and more profound connection with their consumers and audiences. Join us as we look at past examples of the good, the bad, and the ugly of inclusive marketing.
The Good
Pantene Campaign Spotlighting 2SLGBTQ+ Members
Pantene released their "#HairHasNoGender" campaign exploring the power of hair in terms of self-expression and identity. The advertisement spotlighted different members of the 2SLGBTQ+ community where they talked about the importance of allyship in the workplace.
The hair care brand partnered up with organizations from around the world to create educational materials and tips for better acceptance and support in the work environment.
Hotel Tango Supporting the LGBTQ+ Community
Hotel Tango came out with their colorful annual pride series Vodka packaging for the fourth time. As a veteran-owned brand, the company has committed to donating $1 to the Modern Military Association of America (MMAA) for every Pride Vodka bottle sold. The association is the largest organization of LGBTQ+ service members, veterans, military spouses, and their allies in the country.
The MMAA is a great organization to donate to and support, as they are dedicated to making a positive difference in the world through education and advocacy. Plus, they provide free services for people in the LGBTQ+ and HIV+ spheres within the military and veteran community.
Later Media Educating Brands on Juneteenth
Later Media posted a carousel to their Instagram page educating their audience on the special day. The post is aimed at brand owners to teach them how they can properly celebrate the holiday on social media. The dedicated Juneteenth post also links to a blog giving brands different ways to commemorate the holiday online.
The Bad
CIA Headquarters Rainbow Washed Post
The CIA posted a questionable image to their social media accounts earlier this June…
We aren't sure what they were thinking with this picture. Many were surprised and even mistook the post as a parody. With only a photoshopped image and an acrostic – no substantive support behind the post and a less than stellar history – many recipients of this message can only take it as a shallow and disingenuous attempt to earn pride points.
Entertainment Weekly's Big Logo Oopsie
There are a few ways to react to Entertainment Weekly's pride logo– shock, confusion, and possible laughter.
It's hard to believe no one in EW's marketing team could catch the apparent connotation of these elements being put together. Here's a pro tip: Don't imply disgust when marketing for marginalized communities.
Walmart's Juneteenth Icecream Debacle
Walmart released Juneteenth-themed ice cream back in 2022. Unsurprisingly, large corporations only took a year to commercialize the holiday. As we know, an ice cream tub will not be enough to educate consumers on the holiday and represents a strange opener. Considering its massive reach, a corporation like Walmart could have done something much more substantial.
The Ugly
San Jose Shark's Juneteenth Wallpaper
Tone-deaf begins to describe what the San Jose Sharks posted to their Twitter account in 2021. With the team mascot biting the chains of slavery, many were offended by how the image seemed to reduce the holiday to a silly team promotion. Due to the backlash, the post was reasonably taken down.
When marketing for Juneteenth, be careful to juxtapose serious symbols with cartoony figures to celebrate freedom.
Dollar Tree Juneteenth Party Supplies
The commercialization of culturally significant holidays is apparent in Dollar Tree's Twitter post back in 2022. The post was not aimed to educate or illuminate audiences on the significance of Juneteenth, as the corporation did not seem well-informed. Instead, it comes across as a mere cash grab with no sincere intent behind it.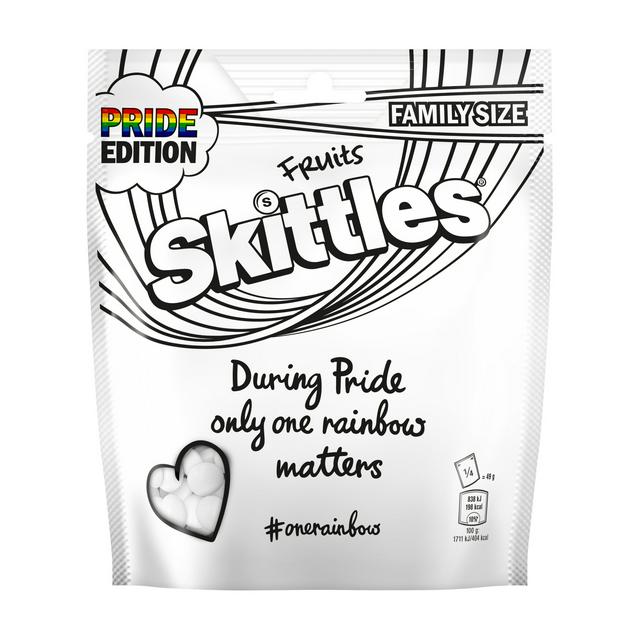 Pride Edition Skittles
This one is a redemption story, but it didn't start that way. When Skittles first launched the campaign, the responses, unlike the Skittles, were a mixed bag. The all-white design brought to mind "white" and "pride" and generally was seen to have missed the mark despite its good intentions. Later the design was updated to be more grey than white and was received much more positively.
Conclusion
This last example shows that you can still try again even if you don't quite get it right. Marketing for marginalized communities can positively impact oppressed populations, their allies, and beyond- when done the right way; so it's always worth another shot if you believe your brand can contribute. When showcasing your support, it's important to remain authentic and back up your claims through a desire to inform, educate, and help in some way, shape, or form. You can provide valuable resources to your audience or donate to organizations that help bring about change.
Are you unsure how to navigate digital marketing and want to ensure your message lands with your consumers? Work with an award-winning agency that understands how to put your brand's voice and intention first so that you can celebrate responsibly. Never miss out on our blogs to stay updated with the latest in the marketing industry from the SEM Nexus Blog